Securely Wipe Hard Drive with Windows 10 Disk Wiper
I guess the disadvantage of using a brand new OS like Windows 10, there is only very little information you can find regarding some problem you're facing right now, especially, if it's about erasing or wiping your hard drive data. Wiping your data under Windows 10 could be an easy thing to do. But, what makes it hard is that sometimes you can be sure whether you truly wiped all the data or you just delete all of them from the hard drive. Not to mention that there are also some easy-to-follow methods to recover the deleted or formatted data.
In case you didn't know yet, deleting all of your data and wiping data is completely different. While deleting only makes your data invisible, and it can be replaced with some new data or easily recovered before it has been replaced, on the other hands, wiping literally makes all of your file gone – forever. In this article, we will show you how to permanently wipe data with Windows 10 disk wiper.
Windows 10 Disk Wiper Download and User Guide
Because you just come into the right place. Here, you will find the best Windows 10 hard drive wiper, that could help you wipe your hard drive within a few simple clicks of your mouse. The software is AweEraser. Before you learn how to wipe hard drive data permanently using AweEraser, let's talk a little bit about why this software is the most reliable Windows 10 Data Wiper.
Why AweEraser is The Best Hard Drive Wiper for Windows 10
AweEraser allows you to completely wipe all the data from your hard drive and it's guaranteed that all the data will be gone forever from your hard drive. There's no way you can recover your data once it's wiped. So you can rest assured knowing that other people couldn't see your private files.
AweEraser offers you a quick and simple way to wipe your Windows 10 hard drive. In fact, it could be done by only doing a few simple clicks.
AweEraser comes in a tiny size. It means you can download and install the software on your computer within a few seconds.
100% safe, no damage whether you wipe a HDD or a SSD.
Looking at those facts, there's no reason for you to not downloading and installing AweEraser to help you wipe your hard drive from Windows 10. Okay, now after you downloaded and installed AweEraser on your computer, let's get started with how to wipe hard drive in Windows 10 using AweEraser.
Step 1: Open AweEraser and you can see there are three Data Erasure options. Choose the second one to wipe your hard drive completely.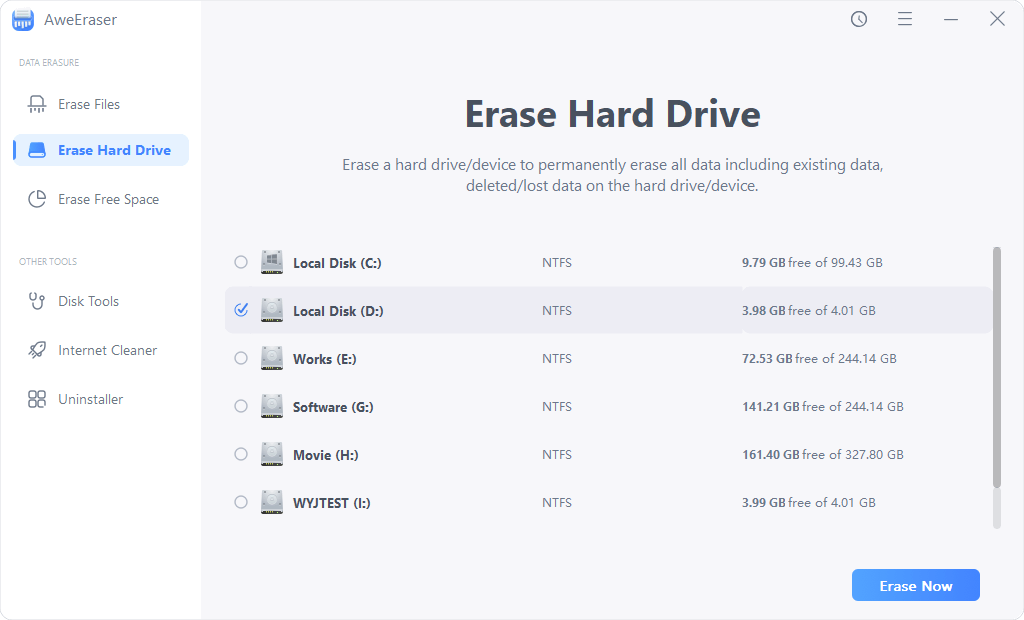 Step 2: Next, you'll see there is a list of the hard drives connected to your computer. Simply click on the hard drive you want to wipe, and then click on "Erase" button.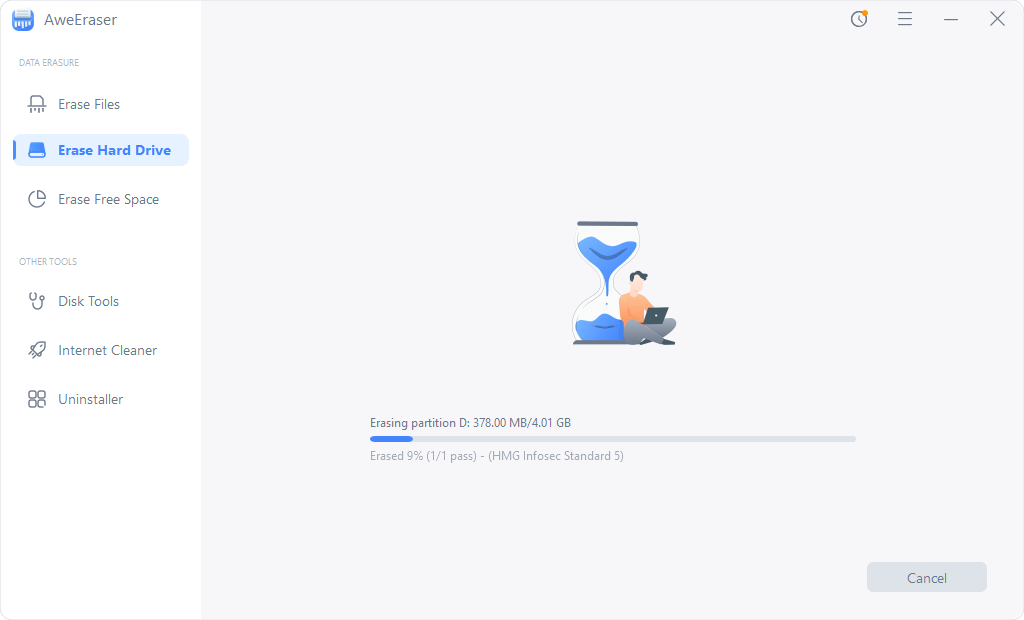 Step 3: Simply wait until the process is done. And the hard drive will be reformatted and wiped. All the data on the hard drive will be permanently erased.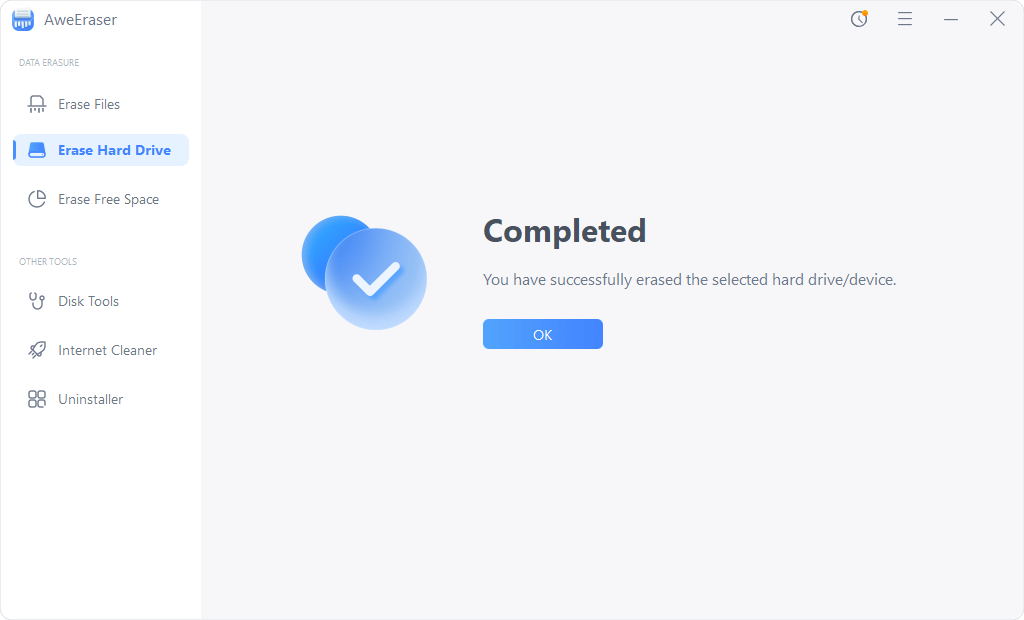 AweEraser offers reliable solution to help you wipe SSD, HDD, USB, Memory card under Windows 10. It also can help you permanently delete files in Windows 10, erase already deleted files on Windows 10 hard drive. It is very safe and easy to use. Once the data is erased, the data will be lost forever, can't be recovered by any data recovery software.