How to Convert RAW USB Drive/SD Card or Partition to FAT32 without Losing Data?
Quick Navigation:
Summary: How to format a RAW SSD, HDD, SD card, USB flash drive or a hard drive to FAT32 without losing information? Here are some proven methods to convert RAW to FAT32 and keep your data safe. Just follow this guide to format or convert your RAW USB flash drive, SD card or a partition to FAT32 without losing the data stored on the RAW device.
For various reasons, including virus infection, power surge, hazardous removal, and faulty sectors accumulated over years of usage, a memory card or USB disk/flash can revert to its original, unformatted state. Factories created FAT32 file systems for memory cards and flash drives because of their widespread use. That's why we want to show you the guide to convert a RAW drive to a FAT32 drive.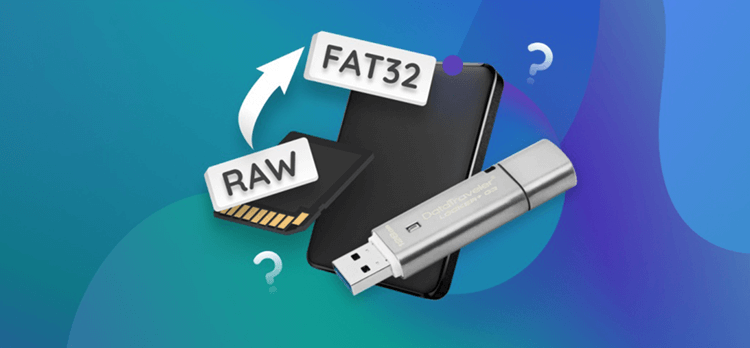 About RAW and FAT32 File System
Neither Disk Management nor Windows File Explorer will properly display a drive that has not been formatted or has an unknown file system. If a normally formatted storage device suddenly becomes RAW, the file system on that Partition may be broken or corrupted. Windows 11 and 10 are unable to read files in RAW Format.
Along with NTFS and exFAT, the FAT32 file system is a popular partition type for Windows computers and Mac computers. A related topic is how to change from exFAT to NTFS. The FAT32 format differs in that it is the most widely compatible with different operating systems. The micro SD card, pen drive, USB flash drive, and memory card are all removable storage that should be formatted using this type of file system.
Top 4 Methods to Convert RAW to FAT32
FAT32 is compatible with Windows OS and Mac OS. If you find your USB drive or SD card gets damaged, can't be accessed, you can choose one of the methods to convert the RAW file system to FAT32.
Method 1. Convert a RAW drive to FAT32 in Disk Management
Using Disk Management, the FAT32 file system on external drives is a breeze. After data recovery, you can utilize Disk Management to reformat the drive in a secure FAT32 format.
The procedures are the same for any storage medium:
Try searching for "disk management" (Windows Key + S). Select the option to partition and format the hard drive.
Select Format from the right-click menu after locating the RAW storage disk.
Choose FAT32 from the File system drop-down menu in the format parameters window. Proceed with the OK button. If your drive's capacity is less than 32 GB, you won't be given the FAT32 format option.
To convert the raw drive to FAT32 format, click OK when prompted.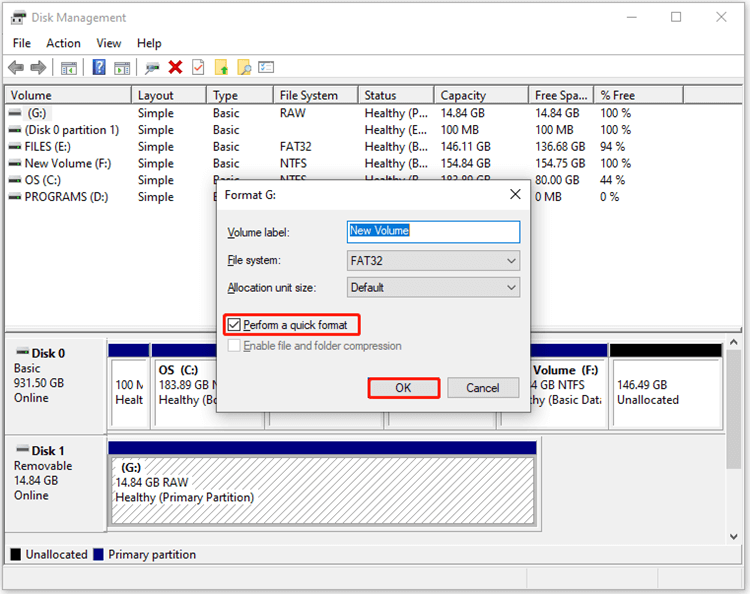 Method 2. File Explorer's RAW-to-FAT32 conversion
Windows File Explorer, which lets you quickly navigate between your many folders, drives, and linked external storage devices, can also do the conversion from RAW to FAT32, which many users of Windows are unaware of. Also, you may easily change the drive's file system from RAW to FAT32 by formatting it here.
Launch the computer's file manager, likely Windows Explorer.
Locate the RAW drive and then select Format from the context menu.
Rename the drive and choose FAT32 as the file system by following the on-screen prompts.
To begin, click the Quick Format button and then the Start button.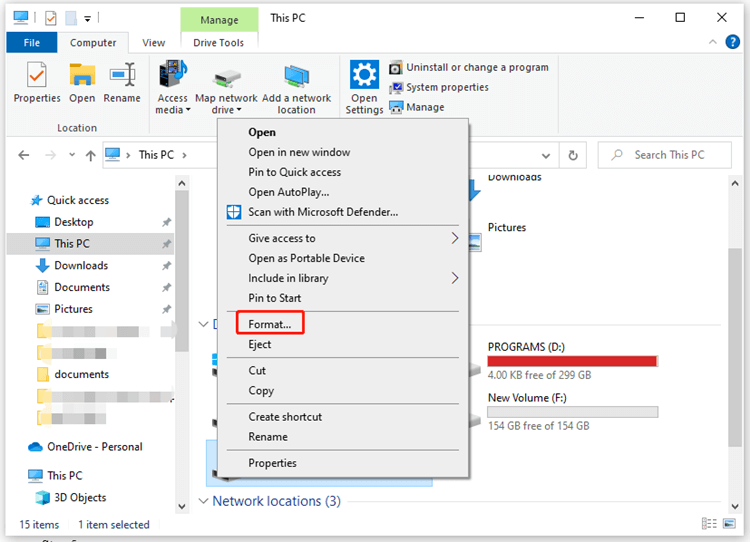 Method 3. Format tool for converting RAW to FAT32
A RAW to FAT32 format tool is a piece of software that assists in formatting a RAW device so that it may use the FAT32 file system. Some users encounter an error warning when attempting to format a RAW device in Windows and turn to a third-party format program. Software like AweEraser can help you format a RAW USB flash drive or SD card to FAT32 on Windows or Mac OS.
Just choose Disk Tools, then select the RAW device, click on Format button.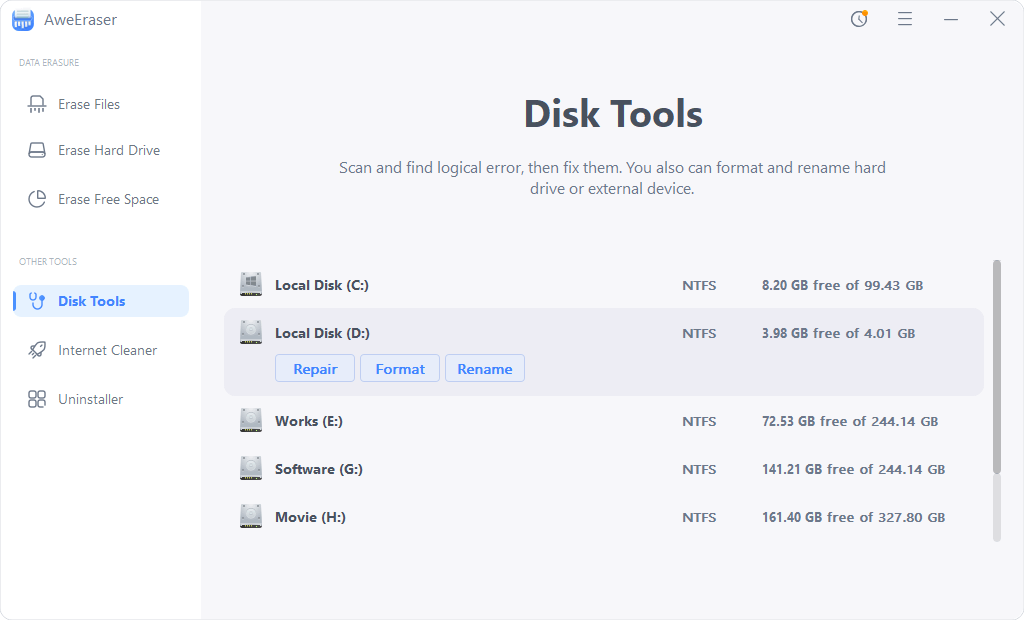 Method 4. Using the command diskpart, change raw to FAT32
For technically savvy people, a simple cmd called diskpart may be all that's needed to change the raw file system to FAT32. If you are a computer user and wish to convert a raw file system to a FAT32 one, you only need Diskpart. This conversion can only be performed on Windows, as the cmd is part of the Windows operating system.
Using the Windows key on your keyboard while simultaneously pressing R will launch diskpart.exe. Do hit the Windows icon and R to open the Command Prompt, and then type "diskpart" into the prompt.
Once diskpart is available, you can change the Format by following these instructions.
Insert the SD card and plug it into the computer.
Second, with your raw drive highlighted on your computer, type "select volume *," where * represents the volume number for your particular drive.
Third, enter "format fs=FAT32 quick."
Fourth, press the 'exit' key.
Recover Lost Data from RAW Drive or after RAW-to-FAT32 converting
A data recovery tool is able to recover inaccessible data from a RAW drive or recover lost data after formatting a RAW drive to FAT32. To keep your data safe, you can use a data recovery tool, such as Magoshare Data Recovery to help to recover data from the RAW drive or formatted drive to your computer.
Magoshare Data Recovery
Export data from RAW USB drive or memory card or partition to your computer.
Unformat a hard drive.
Step 1. Open Magoshare Data Recovery on your computer and connect the device or hard drive where you lose your files to your computer.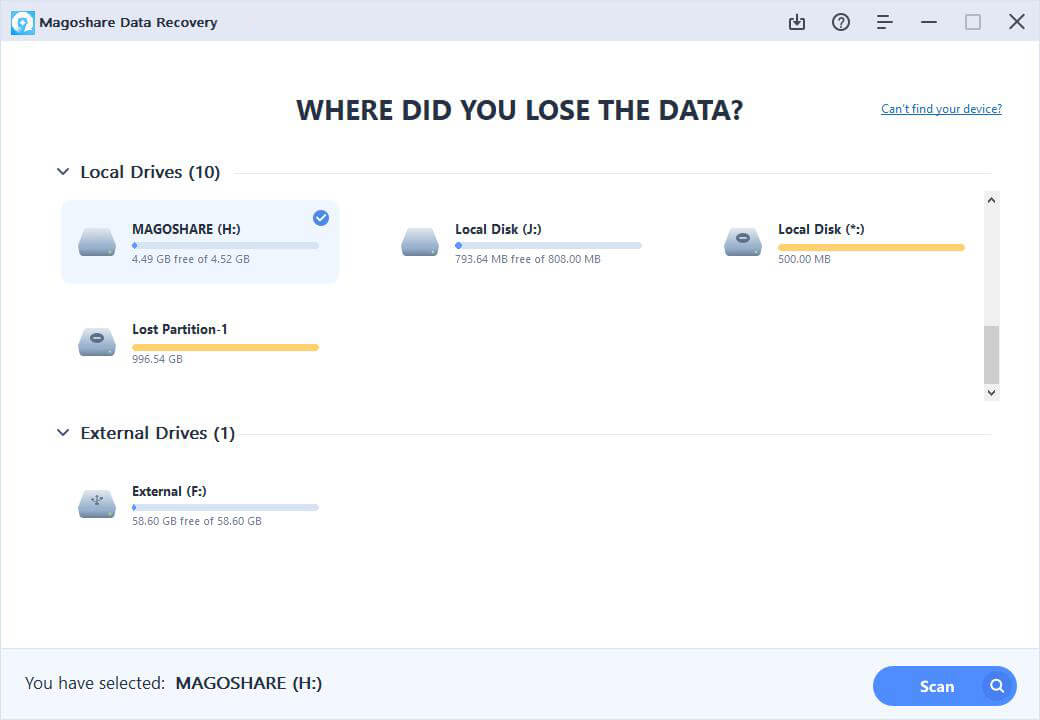 Step 2. Select the hard drive and click on Scan button.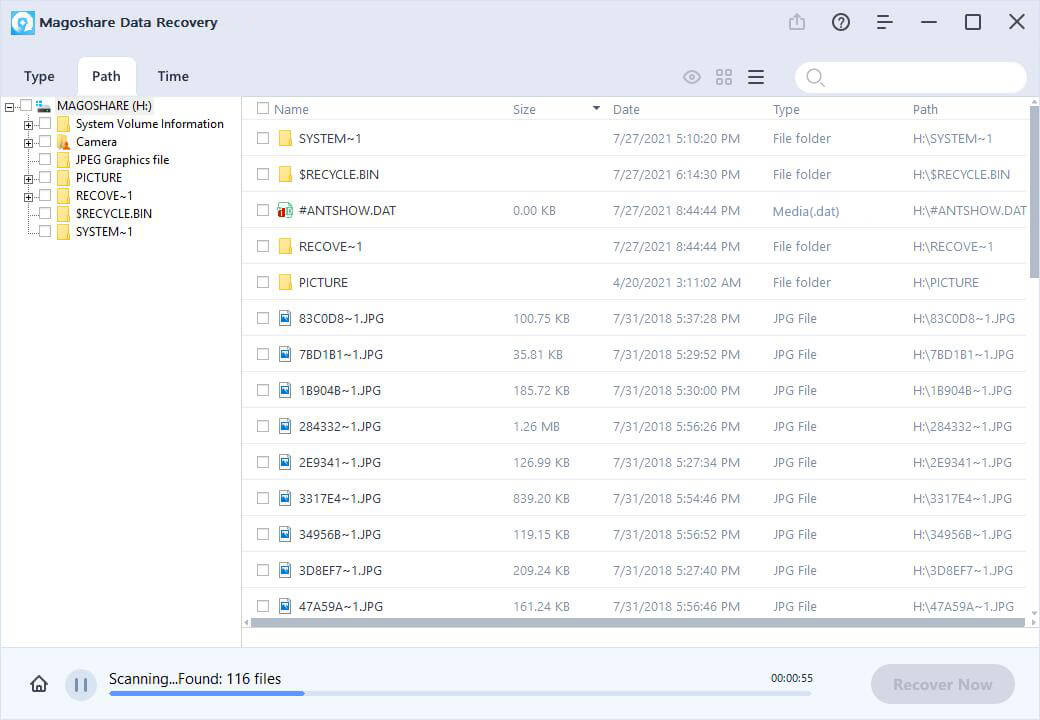 Step 3. Once the scan is completed, you can preview all recoverable files, select the wanted files, save them.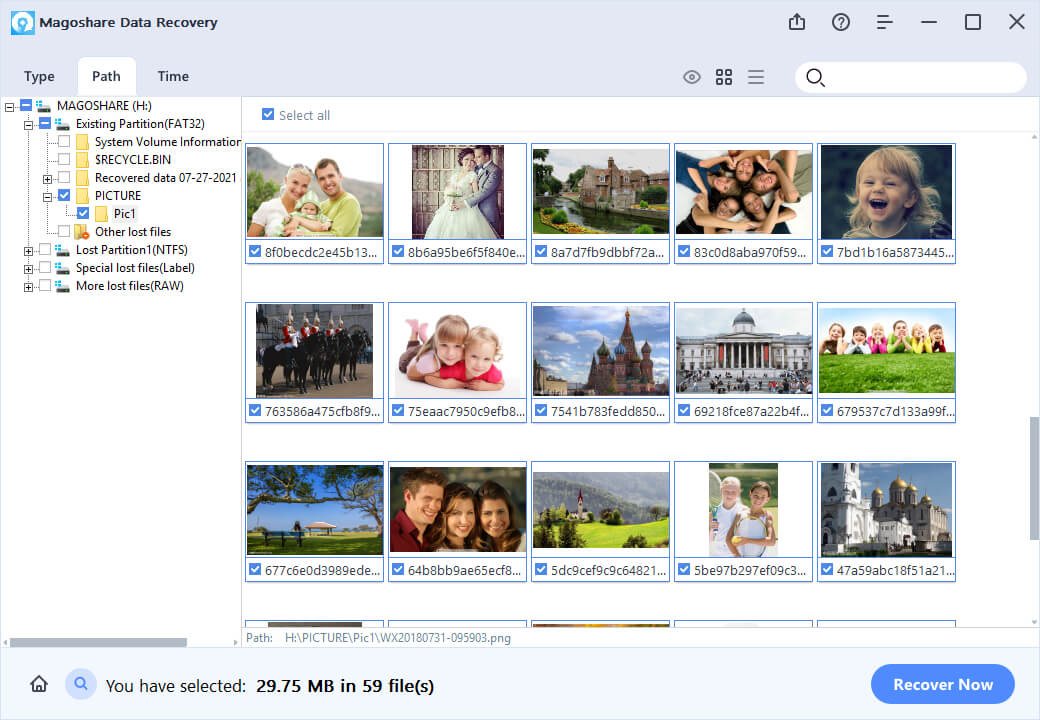 FAQs About Converting RAW to FAT32:
Conclusion:
This article looks at four converters that can convert RAW file system to FAT32. Actually, you can use a disk format tool to help you quickly format a RAW drive to FAT32 on Windows or Mac OS. Magoshare Data Recovery is a powerful data recovery tool. It supports to recover all data from the RAW drive or unformat a hard drive which is formatted due to converting RAW to FAT32.