How to Clone Hard Drive and Create Bootable Mac Disk Clone Using SuperDuper?
SuperDuper is a program that creates an exact clone of Mac's hard drive on another hard drive. It replicates the complete operating system, as well as all apps, data, and practically everything else when you use it to back up a Mac. This provides it with a few perks over other backup systems, such as Time Machine included in macOS.
In this article, I'll teach you how to use SuperDuper! copies as backups, how to retrieve them if necessary, and how to recover from them.
Until you do, you'll never need a BACKUP
Backing up is the electronic equivalent of throwing kale: everybody knows it's a good idea, and experts all recommend it, but nearly no one really does it.
The trouble is that current computers are so powerful that it's easy to spend years without having a backup; you might lose the occasional file that you unintentionally erased, but you'll be OK for the most part.
When calamity strikes, and it will, all of your hard work, images, and downloaded movies are erased in one single swoop. Digitally, you're back to square one.
All of this may be avoided if you have a robust backup plan in place. Marius, a Tuts+ author, has published a fantastic lesson on how to set up a completely fail-safe backup system.
Cloning Explained
Cloning is a scientific term that refers to the process of cloning.
Time Machine, macOS's built-in backup program, is fantastic. It particularly shines when it comes to maintaining versioned backups of your data and programs over time. If something goes wrong with an application update or you lose a file, you may easily restore everything using a Time Machine backup from a week, a day, or an hour ago.
Unfortunately, Time Machine does not back up the operating system files. If the worst happens and you need to restore your entire machine, you'll need to reinstall macOS — which is a five-gigabyte download if you don't have a recovery partition — and then recover it all from Time Machine.
Getting the Backup Drive Ready
You'll need a backup HDD to restore to. This will almost certainly be an external disk unless you're running an older Mac Pro or have created your own Hackintosh. It must be at least the same capacity as your Mac's primary drive; any shorter and the clone will fail to function.
Connect the external hard disk to your Mac and launch Disk Utility. It's in the Applications' Other folder.
Proceed to the Partition tab after selecting the backup disk from the left sidebar.
Select 1 Partition from the Partition Layout dropdown. Choose Mac OS Extended (Journaled) from the Format option and give the drive a meaningful name. Wait after clicking Apply.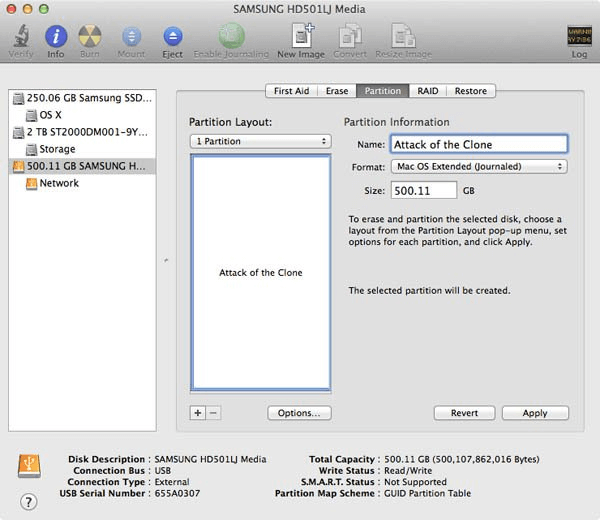 The backup disk has now been set up.
The Clone Drive's Inception
SuperDuper! is a free app with a one-time $27.95 charge unlocking some valuable extra features. Accept the terms of the license agreement, then drag SuperDuper! to your Applications folder and launch it.
Select your primary hard disk in the first dropdown option, your backup drive in the second, then Backup – all data in the third to make a clone.
Allow SuperDuper! to function by clicking Copy Now.
SuperDuper! is in action.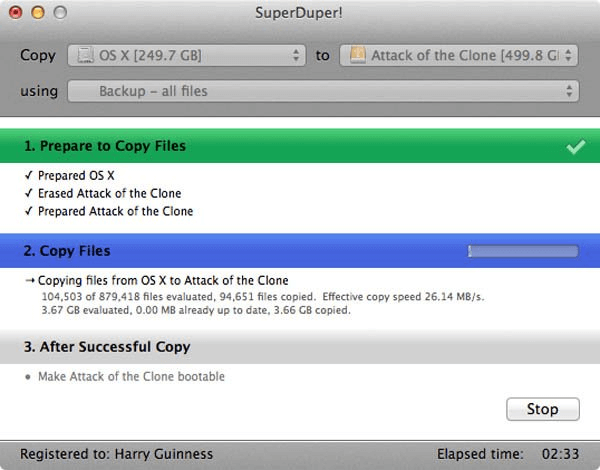 You'll have a flawless clone of Mac's hard disk once SuperDuper! has transferred across all the files. By attaching the backup disk to a Mac, you'll be able to view all of the files—the file system should be familiar.
The files will be organized in the same folder structure as they were on the original disk.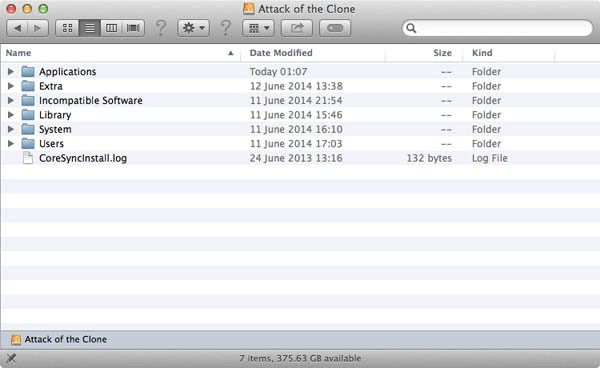 Optional Extras
SuperDuper! is a sophisticated tool that allows you to build a flawless clone of your Mac for free, but you can unlock additional capabilities if you pay. Smart updates and scheduling are the two most essential extra choices.
It takes a long time to replicate many hundred gigabytes of data over USB, as you probably observed when you made your clone drive. When SuperDuper! conducts a smart update, it merely transfers over the files that have changed, rather than making a new clone from scratch every time you backup. Several gigabytes rather than hundreds.
To do a smart update, go to Options... Instead of Erase then Copy, choose Smart Update from the During copy dropdown box.
If you don't maintain your backup up to date, it's useless. You may create a backup schedule using SuperDuper! Set up times for SuperDuper! to run automatically using the Schedule... interface.
This is the ideal time to do it if you keep your Mac on all night. Otherwise, lunch breaks or getting ready for the day early thing in the morning are ideal times. You can run numerous scheduled backups at various times and on different days.
How to use SuperDuper alternative to create a bootable clone on Mac?
Yes, some users still don't know how to use SuperDuper to create a bootable disk clone - just because it is not an easy-to-use tool. Here, we introduce an easy-to-use alternative to SuperDuper. This disk cloning tool is AweClone for Mac.
AweClone for Mac is a powerful, easy-to-use and 100% safe disk cloning application which is able to clone disk in OS X and macOS. Now, download it here:
Clone HDD/SSD/memory card/USB flash drive, etc.
Create disk image of any hard drive on Mac.
AweClone for Mac can help you easily and securely create a bootable disk clone for Mac. Follow the steps below:
Step1. Insert an external disk into your Mac as the destination drive. Then open AweClone for Mac, just choose mode 'OS Clone', select the external disk as the destination drive.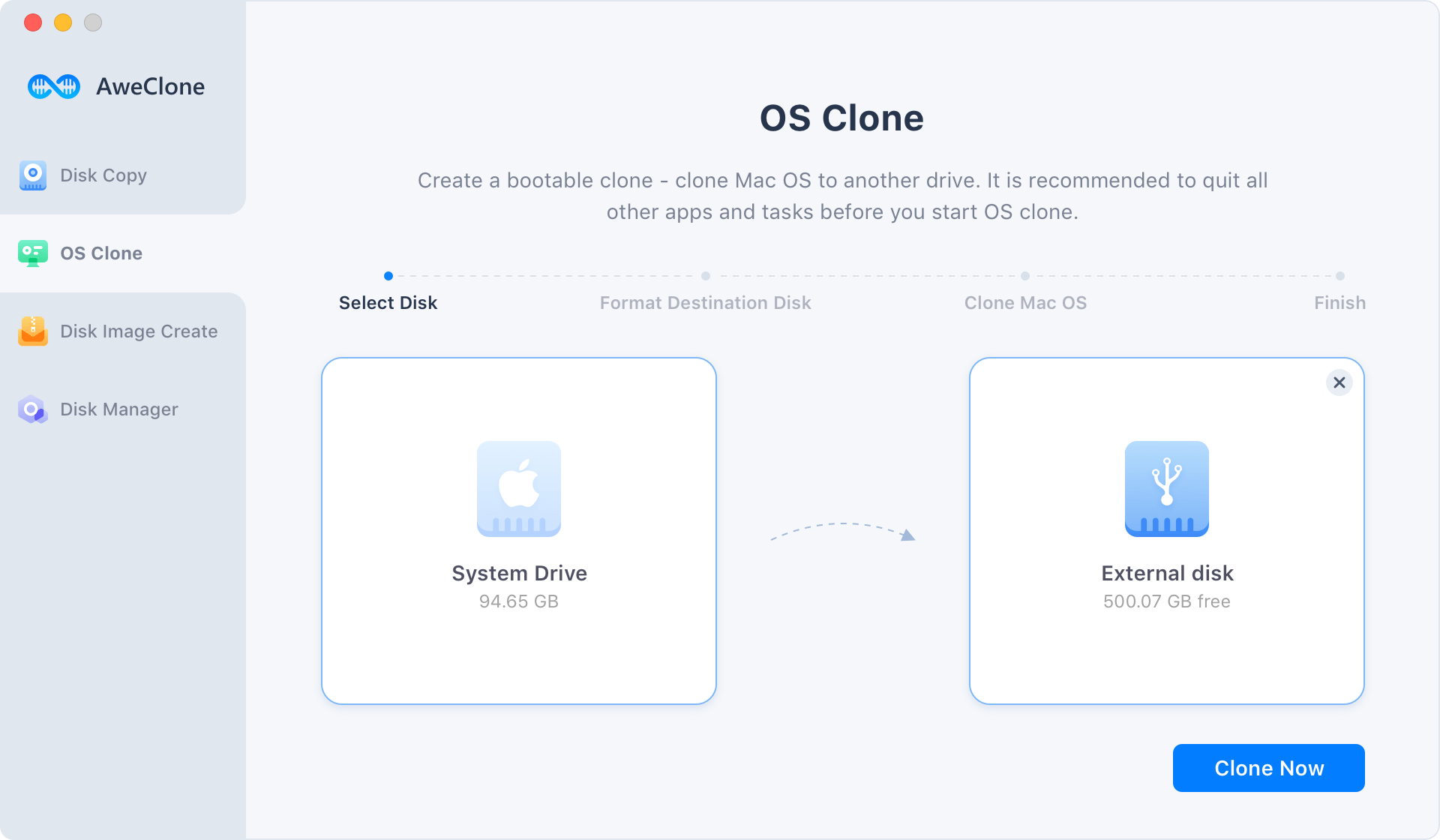 Step 2. Click on Clone Now button to clone the Mac startup disk to the external disk.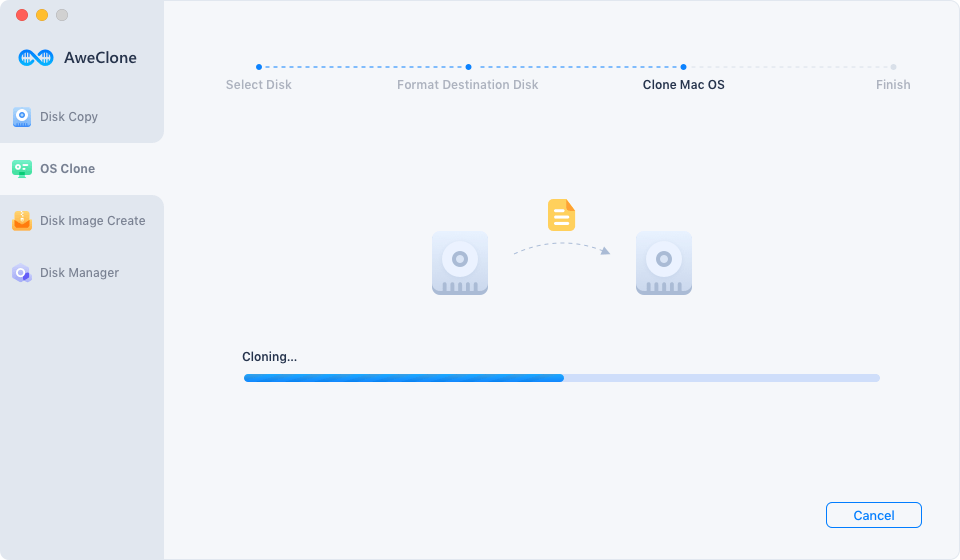 Step 3. Once the process gets finished, all data on the Mac disk is cloned to the external disk and the external disk could be used as a bootable disk.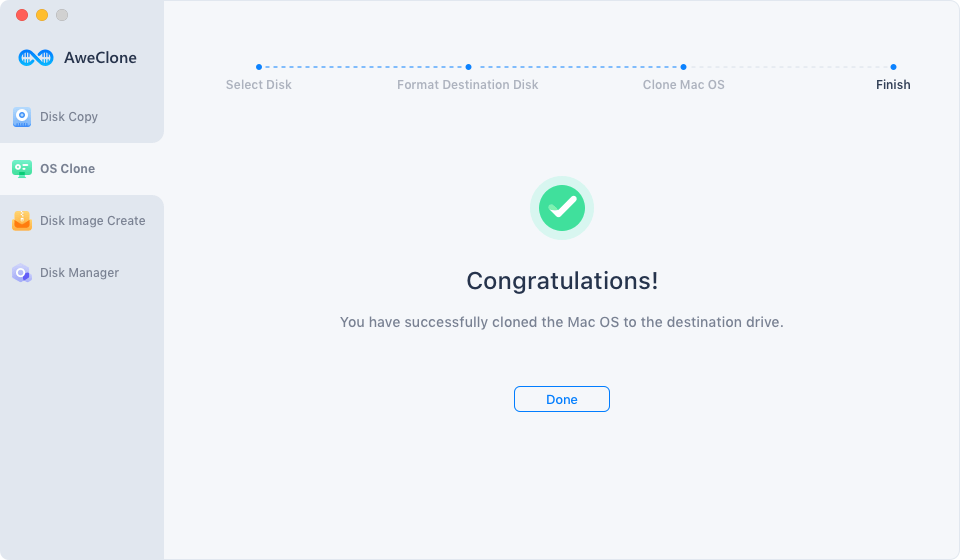 Conclusion
We have taught you how to improve your backup system by using SuperDuper! to create a complete clone of your hard disk in this article. Because the operating system is preserved, a clone provides you with more alternatives than a typical backup. SuperDuper! is a fantastic program that you should consider using in your backup plan. If you want a easier solution, just download the best SuperDuper alternative - AweClone for Mac.