What Is Remo File Eraser, and How to Use It to Shred Files
If you plan on reselling your laptop, you must delete all personal and sensitive information. Data can be deleted irretrievably from a storage device by formatting the disk, switching the partition file system, or using SHIFT + DELETE. Even after employing such laborious procedures, there is still a chance that you may be able to retrieve all of your vital computer files and folders.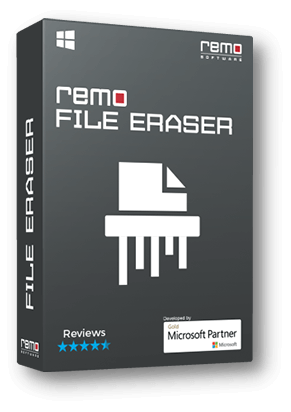 However, data shredders like Remo File Eraser exist, which permanently delete data from a storage device. The Remo file erasing program uses 5 innovative shredding patterns to ensure all data's complete and total erasure.
Instruct the program on how to find the files you want to delete and how to delete them without having to wade through a bunch of options or tedious procedures. If you use SME or Corporate - Remo File Eraser, you can wipe the hard drives of decommissioned laptops and desktops before giving them to new employees.
Remo file eraser feature:
Mobile devices and terminated desktop computers can have their data securely erased using special shredding software. The app's shredding features are a major factor in its usefulness. Shredding files is ingenious since it bypasses the file's structure and renders it useless. Shredding is the way to go if you want to make the information you've deleted from your computer unrecoverable.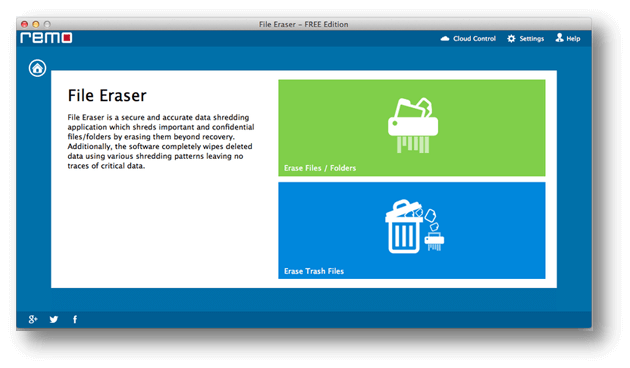 Moreover, the Remo software employs several shredding patterns to ensure that all traces of erased data are eliminated. The hard disk can be destroyed using the superior drive wiping feature.
Remove any traces of sensitive data from storage devices such as computers, mobile phones, and tablets by shredding files and folders.
Use the "wipe free disk space" feature to destroy any data that has already been erased from your drive.
The software's shredding choices go above and beyond those official bodies accept.
Built-in scheduler allows for timed or event-based data destruction.
A faster drive's shredding speed might free up time and space in your system.
Delete everything from the trash permanently.
The ability to delete a whole disk partition or drive.
Comprehensive data security with cutting-edge shredding patterns.
Is Remo File Eraser Safe to Use?
Customers with Small Offices and Home Offices You may use Remo File Eraser to permanently delete files from your computer's hard disk, external devices, and even the memory card used in mobile phones, digital cameras, and camcorders before selling or disposing of them.
Before handing over old laptops or desktops to new staff, business owners and managers should utilize Remo File Eraser to destroy all personal information traces. Wipe hard drives before upgrading or disposing of computers.
Every user has their own set of needs! In light of this worry, Remo File Eraser has categorized these distinct shredding methods into three distinct tiers of data security, from which you can pick and choose as needed:
Low Level: Overwrites the files with zeroes; reserved for low-priority data. If you want to delete 10kb of files, you'll overwrite the desired location with that amount of data.
Moderate: Files are overwritten with random characters.
High level: files are overwritten three times, once with a set value (0x00), once with its complement value (0xff), and once with random values, making a recovery impossible.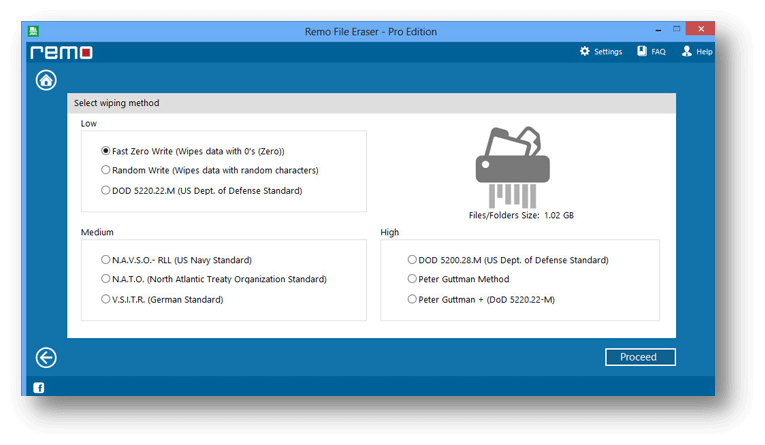 How to Permanently Delete Files Using Remo's Eraser?
Files can be erased with the help of Remo File Eraser Media, which can be downloaded for free and installed on your computer following the steps outlined below.
To begin, download and launch the Remo File Eraser application.
The program will load all your drives into the tree view on the left of the main window.
Select the files using Add Files from the sidebar, then go to the Erase tab.
To permanently delete your data, proceed and pick this option to see a menu with nine alternative deletion techniques.
Remo File Eraser System Requirements:
Hard Disk Space: 50 MB space required.
Operating System: Windows 7/8/8.1/10
Processor: Intel Pentium 4 or later.
Memory (RAM): 1 GB of RAM is required.
Best Remo File Eraser alternative for Windows and Mac
Remo File Eraser is a good file eraser, but it does not offer a Mac version. Here, we introduce a better Remo File Eraser alternative - Magoshare AweEraser. This software offers certified data erasure methods to help in permanently erasing data from PC, Mac, HDD, SSD, USB flash drive, memory card, digital camera, etc.
Data Eraser - AweEraser
100% safe data erasure software for Windows and Mac.
Three flexible data erasure modes.
Certified data erasure methods.
AweEraser offers three data erasure modes.
Mode 1. Erase Files.
This mode can help you erase files and folders. Just add files/folders into the erasure list, then click on Erase Now button to securely and permanently erase the selected folders and files.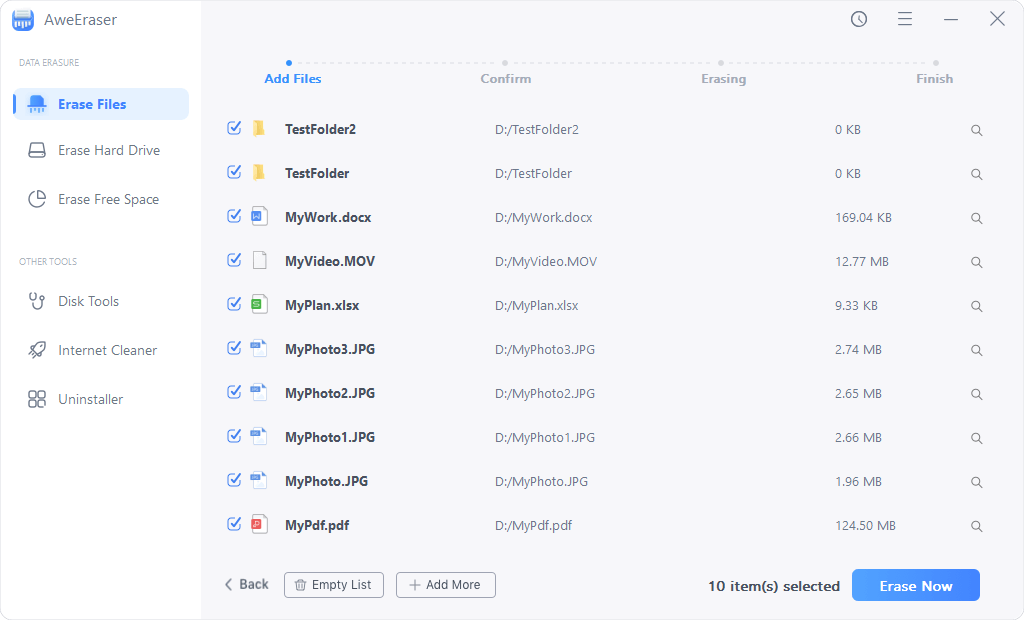 Mode 2. Erase Hard Drive.
Erase a hard drive to permanently erase all data including existing data, deleted/lost data on the hard drive.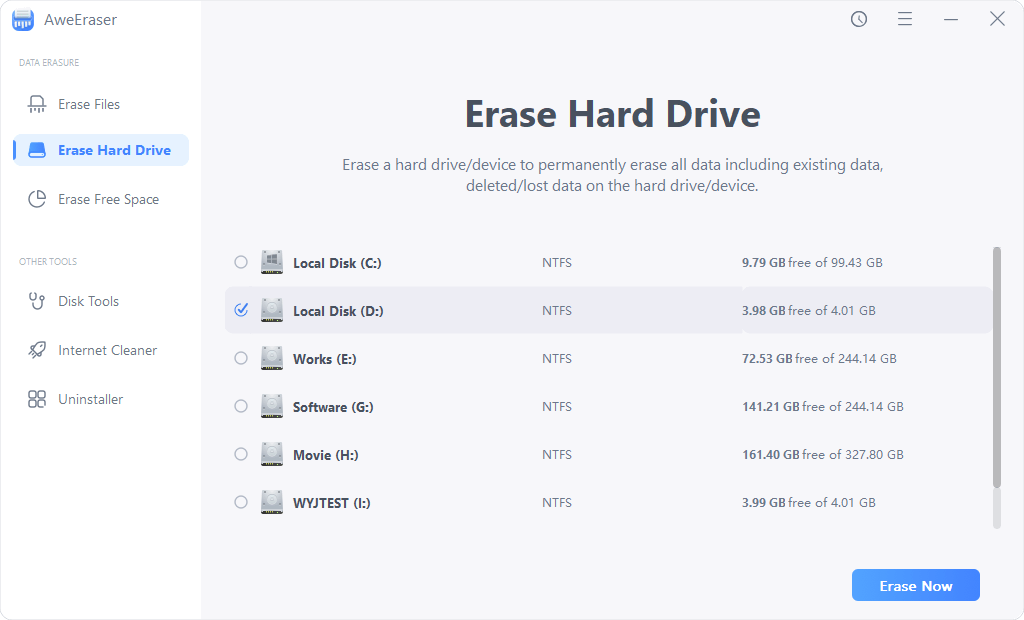 Mode 3. Erase Free Space.
Wipe free space of a hard drive to permanently erase all deleted/lost data on the hard drive without affecting the existing data.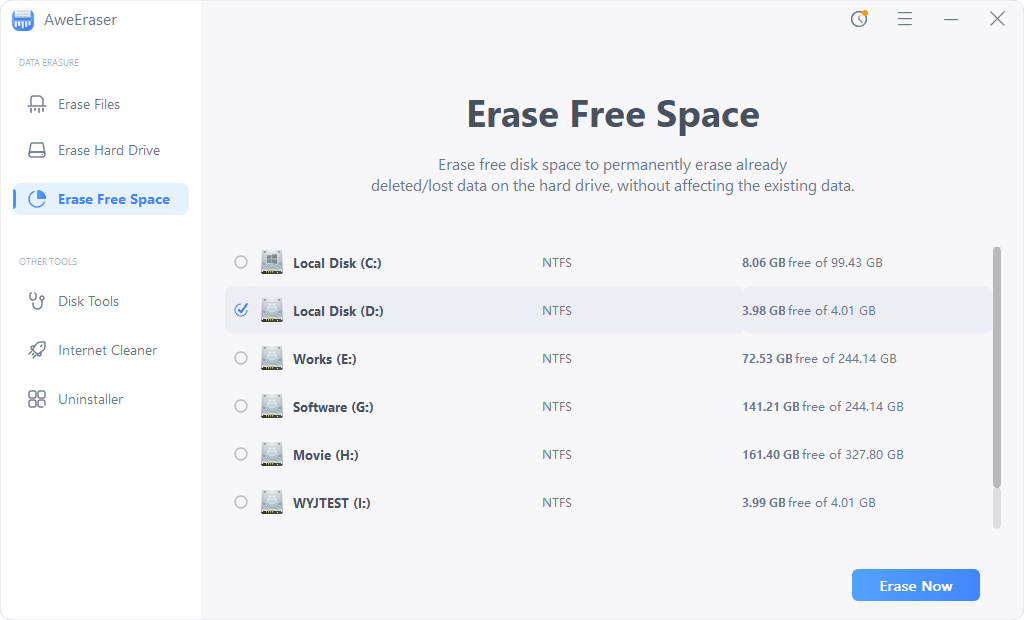 Conclusion:
You may quickly and easily delete confidential files from your device using Remo File Eraser. It may securely delete files in a couple of seconds using one of three methods, including the US Department of Defense's preferred option. This program can be used for high- and medium-level data shredding by international data shredding standards.
All versions of Microsoft's Windows OS can use this program without issue. Built into its design are sophisticated data-shredding patterns that completely erase anything stored on the drive. It is possible to permanently delete information from storage devices such as hard disks, memory cards, and USB drives.