Create A Bootable Clone Backup for M2 Chip Mac (such as M2 chip MacBook Air or MacBook Pro)
Summary: In this article, we will show you how to clone M2-chip Mac startup disk to an external hard drive and make it be bootable. You can use the bootable clone to restore macOS or use it as a bootable disk on any Mac.
Quick Navigation:
The hesitation in advocating an upgrade is due to a single, overarching worry. That's the difficulty level in making a clone of your startup volume, also known as a bootable duplicate.
We need to take a step back to analyze why something seemingly straightforward as copying all the files from one disk to another, generates so much concern.
After that is complete, we can reconsider the value of a bootable copy in the context of a cutting-edge backup plan. A hard disk can be cloned to create an exact copy that is otherwise indistinguishable from the original.
Before creating a major data backup, upgrading to a new computer, or switching to an SSD, you should first clone your disk (SSD). Learn everything there is to know about cloning hard disks on a Mac with our detailed guide.
What does it mean to clone a hard drive?
A cloned hard disk contains the same operating system and all other system files as the original. Keep in mind that there is a distinction between cloning a disk and backing up your data.
Only your files will be backed up when you use a backup. Time Machine is available for Mac users to make backups, and Windows has its backup applications.
When you clone something, it's a carbon copy of the original. When a drive is cloned, it functions just like the original. The cloned disk functions like any other drive when a computer is installed.
Why should you think about cloning your M2's hard drive?
A backup copy of your hard drive is a smart precaution to take at all times for your safety. Cloning one's hard drive is something that the vast majority of individuals do for one of the following reasons, in general:
Moving to a new hard disk:
Time and effort can be saved by duplicating an existing disk rather than moving all your data to a new computer. When you're finished, install the original hard drive in an external container for safekeeping. Ensure that your old gadget gets disposed of appropriately.
Making a full copy:
If you have a hard drive clone made before your computer becomes infected, you can restore from the clone and begin again. However, it is too late to clone your drive before malware infects your machine, so do so now to be safe.
A Step-by-Step Guide to Create A Bootable Clone Backup for M2 Mac
If you want to make a full copy of your M2 Mac, just try Mac disk cloning software - such as AweClone for Mac. It offers three disk cloning modes to clone M2 Mac: Disk Copy, OS Clone and Disk Image Create. The OS clone mode can help you create a bootable clone backup for Mac.
Clone HDD, SSD, USB drive and other device on M2 chip Mac.
Create a bootable clone backup for M2 chip Mac.
Now, follow the steps below to quickly create a bootable clone backup for M2-chip Mac:
Step 1. Download and install AweClone for Mac on your M2 Mac, then open it from Launchpad. Just connect an external hard drive to your M2 Mac, then you can create a bootable clone backup using the external hard drive.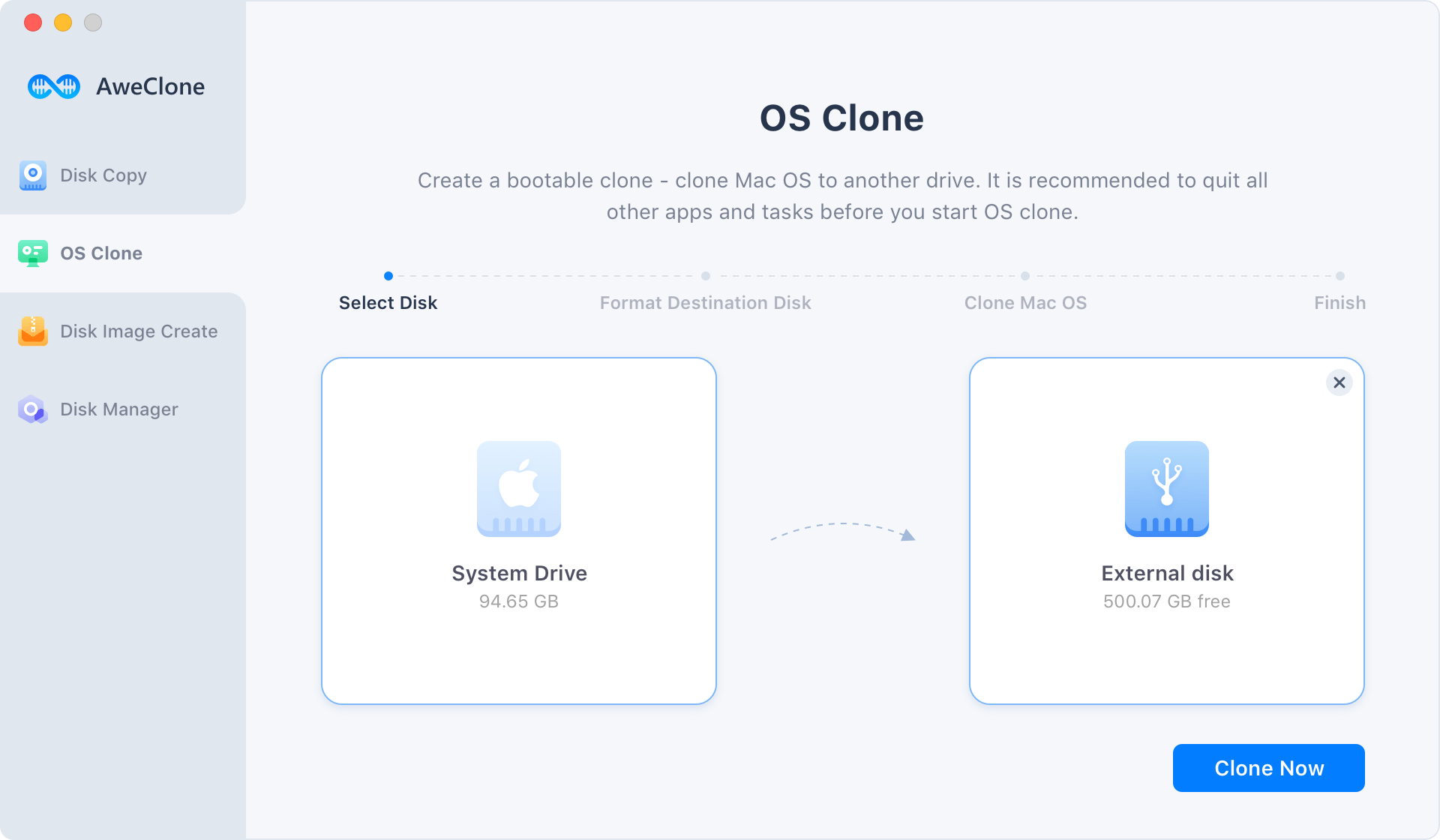 Step 2. Choose OS Clone mode, select the external hard drive as the destination drive. Then click on Clone Now button to clone all data on the startup disk to the external hard drive.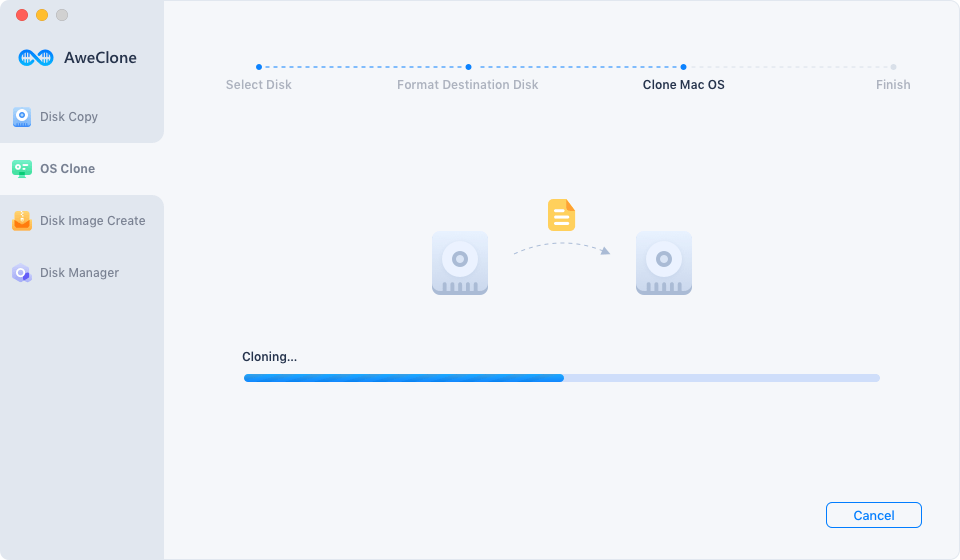 Step 3. Once the process gets finished, you can check the cloned data on the destination drive.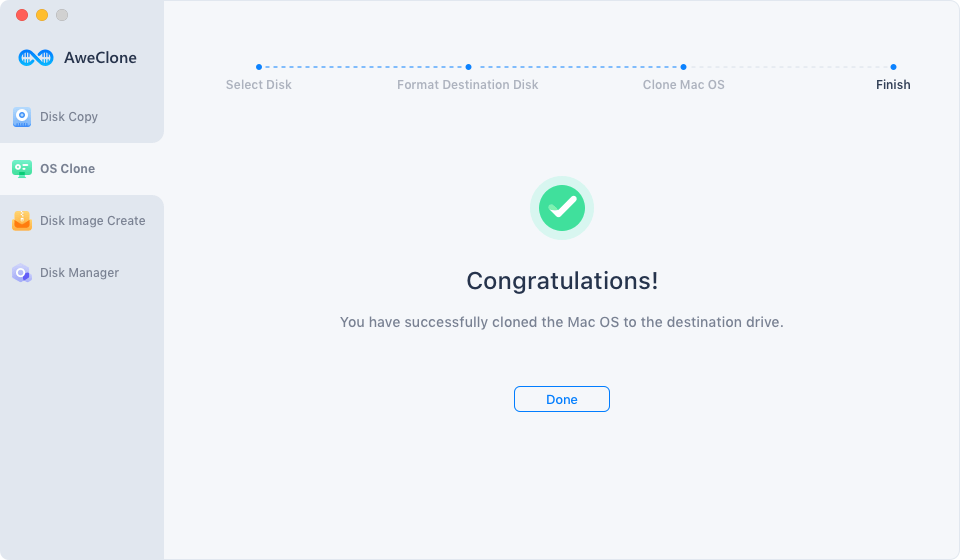 AweClone for Mac is an easy-to-use disk cloning application. You can easily create a bootable clone backup for your M2 Mac. It also can help you clone hard drive on M1 or Intel-based chip Mac.