About Mac Studio: Super Mac Desktop
Users who frequently wait for their Macs to process data should use The Mac Studio. The Mac Studio will significantly reduce the time you spend sitting and watching a progress bar if you work in video, graphics, music, data computation, code compilation, or any other area where you frequently do so. You will value the ports on the Mac Studio if you have a lot of equipment that has to be connected.
What is Mac Studio?
The 27-inch iMac has been retired, but Apple's newest Mac product line, the Mac Studio, is positioned as a hybrid between a Mac mini and a Mac Pro. The Mac Studio, intended for "studio" professionals and looks like a taller Mac mini, uses Apple's most potent M-series processors.
Mac Studio: Ports
The backports of the M1 Max and M1 Ultra Mac Studio are identical.
2 USB-A ports
4 Thunderbolt 4 ports 10Gb Ethernet
3.5 mm headphone jack HDMI 2.0
But the front ports are a bit different:
M1 Ultra Mac Studio:

2 Thunderbolt 4 ports, SDXC Card slot

M1 Max Mac Studio:

2 USB-C ports, SDXC Card slot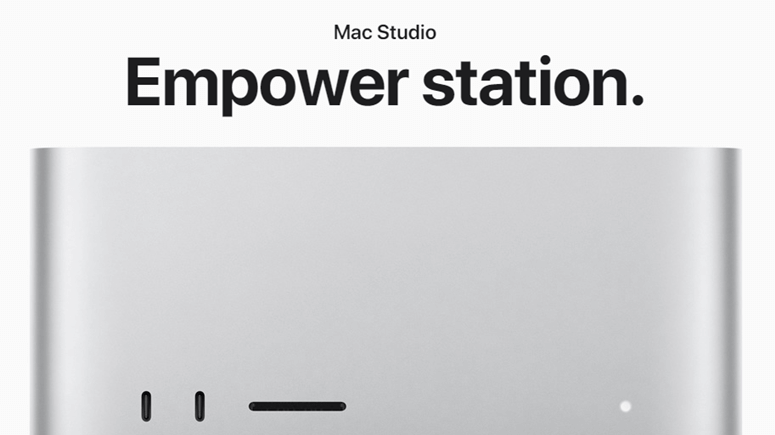 Mac Studio: Display
You will need to supply your monitor since the Mac Studio lacks one. Either an HDMI or a Thunderbolt 4 connector on the back of the device can be used to connect a monitor. Here are the maximum requirements you can utilize to ensure you use a suitable display.
HDMI:

The maximum resolution monitor you may utilize with an HDMI connection is a 4K panel with a refresh rate of 60Hz because this port complies with the 2.0 specification.

Thunderbolt 4:

A 6K display with a 60Hz refresh rate can be connected.
The Mac Studio can accommodate up to five displays: one through HDMI and four more with Thunderbolt 4.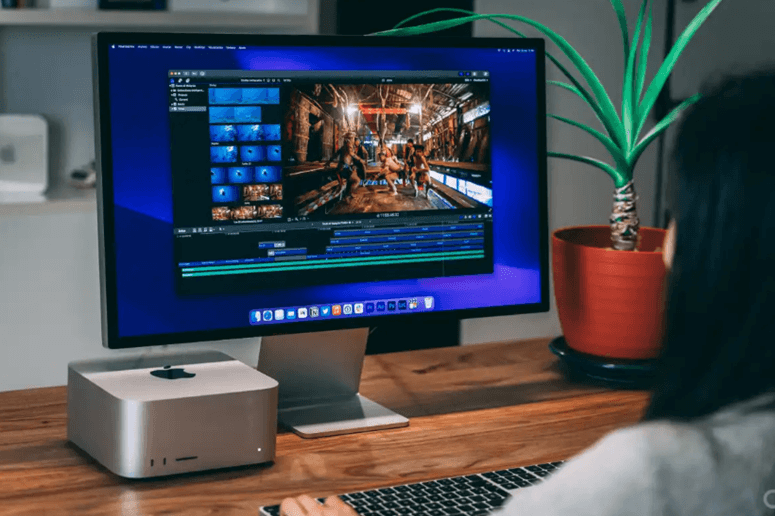 Mac Studio: Connectivity
The Mac Studio has Bluetooth and Wi-Fi. If you want to connect to a wired network, it also contains a 10Gb Ethernet connector. For a list of the ports on the Mac Studio, see the Ports section above.
Mac Studio: Keyboard, mouse, trackpad
Apple does not supply input devices with the Mac mini, as it does with the Mac. Any USB- or Bluetooth-compatible device can be connected. Thus there is an outstanding possibility that any input devices you own will function with the Mac Studio.
4 Reasons You Should Buy the Mac Studio
1. Packs Apple's Most Powerful Chips
The M1 Max and the M1 Ultra are the two available chips for the Mac Studio. The M1 Ultra combines two M1 Max circuits to achieve exceptional performance without being constrained by larger die sizes.
The M1 Max model can be set up with a 24-core or a 32-core GPU. Depending on your power needs, you may purchase the Mac Studio with a 48-core or 64-core GPU in the M1 Ultra versions.
Regarding memory and storage configurations, you can spec the Mac Studio with up to 128GB of unified memory and up to 8TB of storage. However, if you need 128GB of RAM, you need to get the M1 Ultra chip since a single M1 Max chip only supports up to 64GB of memory.
The M1 Max and M1 Ultra chips provide incredible performance that can handle demanding workflows. To put the power of the M1 Ultra chip into context, the M1 Ultra in the Mac Studio outperforms the 28-core Xeon chip in the Mac Pro, according to Geekbench. You get a more powerful chip for significantly less money.
2. The Modular Design
Because of the modular nature of the Mac Studio, you must provide your monitor, keyboard, camera, and mouse. This enables you to alter your setup as desired.
Almost any external monitor with an HDMI or Thunderbolt port can be connected to the Mac Studio, but Apple's proprietary Studio Display is the ideal 5K display for this device.
This computer's small size makes it simple to move from one place to another and is a significant selling point. The device appears like two Mac minis stacked on top of each other because of how Apple engineered it to take up little desk space.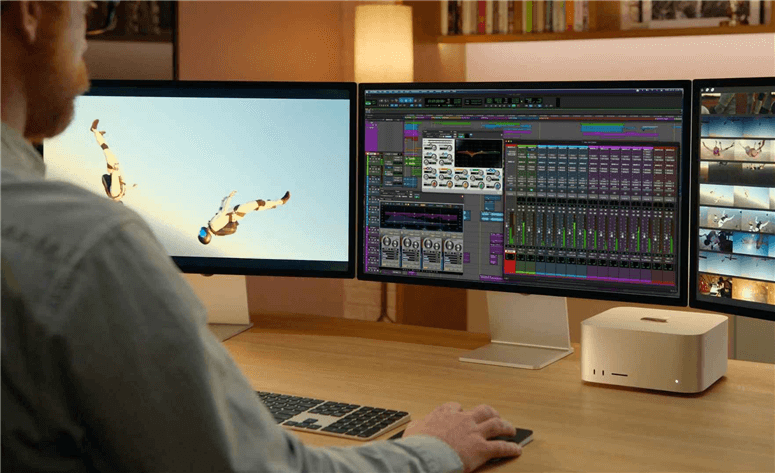 3. Versatile I/O
A lot of ports are available for the Mac Studio. There are two standard USB-C ports on the front and four Thunderbolt 4-capable USB-C ports on the back of the desktop.
The two front USB-C ports are also Thunderbolt 4-capable if you purchase the Mac Studio with the M1 Ultra. All content producers will appreciate the Mac Studio's front-mounted SDXC card slot.
The Mac Studio also has two USB-A ports, a 3.5mm headphone connector, an HDMI port, 10 Gigabit Ethernet, and other ports. The M1 Pro MacBook Pro and M2 MacBook Air are high-impedance headphones that can be used with the headphone jack.
As you can tell by now, the Mac Studio's port selection won't be a problem because it provides various options for connecting peripherals, including monitors, storage devices, and more.
4. The Price Is Compelling
The Mac Studio's starting price of $1,999 is shockingly affordable. The M1 Max chip, 32GB of RAM, and 512GB of storage are included with that model. Starting at $3,999, the Mac Studio's M1 Ultra configuration has 1TB of storage space and 64GB of unified memory.
While the Mac Studio is more expensive than the $5,999 beginning price of the Mac Pro, it is priced higher than the M1 iMac and Mac mini. You can receive excellent performance that can handle demanding workflows like 4K video editing, photo editing, app development, music creation, and more for the cost of either the base model or the high-end model.
However, one should only consider buying the M1 Ultra version if the performance will help their workflow.
Hot solutions for Mac Studio:
Recover deleted or lost data from Mac Studio >>
How to reset Mac Studio to factory settings >>
Reinstall macOS on Mac Studio >>
Clean up junk data on Mac Studio >>
Create bootable clone backup for Mac Studio >>
Conclusion: A High-End Desktop Mac for Professional Use
Professionals looking for a mobile, capable computer to move around a studio or workstation may choose the Mac Studio. It's like a Mac mini on steroids and offers outstanding performance, even in the base model, at an attractive price. Therefore, the Mac Studio is ideal if you require the most potent Apple silicon Mac on the market, at least until Apple updates the Mac Pro. However, you might want to think again before buying the Mac Studio and Studio Display to replace your iMac.
Hot Magoshare Products
Securely and permanently erase data before selling, donating or giving away Mac.
Free Trial
Clone startup disk, external disk, USB flash drive, memory card and more on Mac.
Free Trial